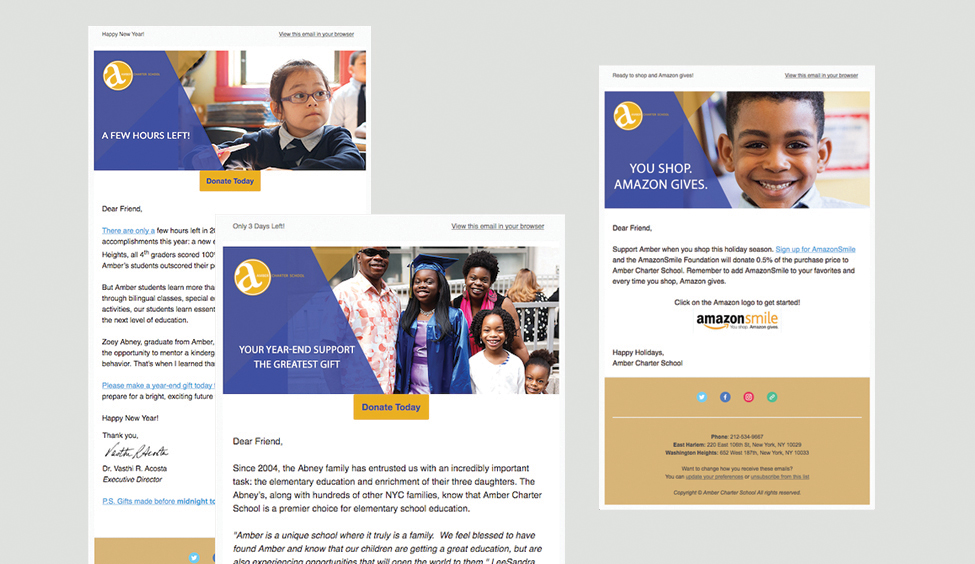 Challenge:
Amber Charter School, the first Latino-led charter school in New York State, approached us looking for support for their communications and fundraising efforts to further the school's mission of providing quality education to underserved children in low-income areas of New York City. They were seeking funds to provide children with a well-rounded education in a core curriculum that includes the arts, Spanish language lessons, physical education, and technology.
Solution:
We helped Amber Charter School increase their visibility, awareness, and fundraising by:
• Conducting a benchmark analysis of Amber Charter School's positioning among competitor and peer schools, examining the school's Board for network connections, and compiling a list of prospects for major giving.
• Auditing existing communications and creating a planning calendar for direct mail, email, and social media.
• Creating and and deploying a range of cultivation emails at year-end
• Writing and designing a year-end direct mail piece, which was sent to current supporters and new prospects.
• Equipping Amber Charter School with the tools and materials needed to move forward with fundraising.
Results:
• Increased Board engagement: Members opened up their personal networks for fundraising, and are planning next steps for coming years.
• Fundraising firsts: Amber Charter School sent out their first end of year appeal and held their first fundraising event at FlyWheel NYC.
• Social media: Their social media following has increased, and they have created a calendar for the upcoming school year including posts and plans to increase followers.
• Increased internal capacity: Amber Charter School has hired someone to lead digital and direct mail fundraising coordination for next school year.