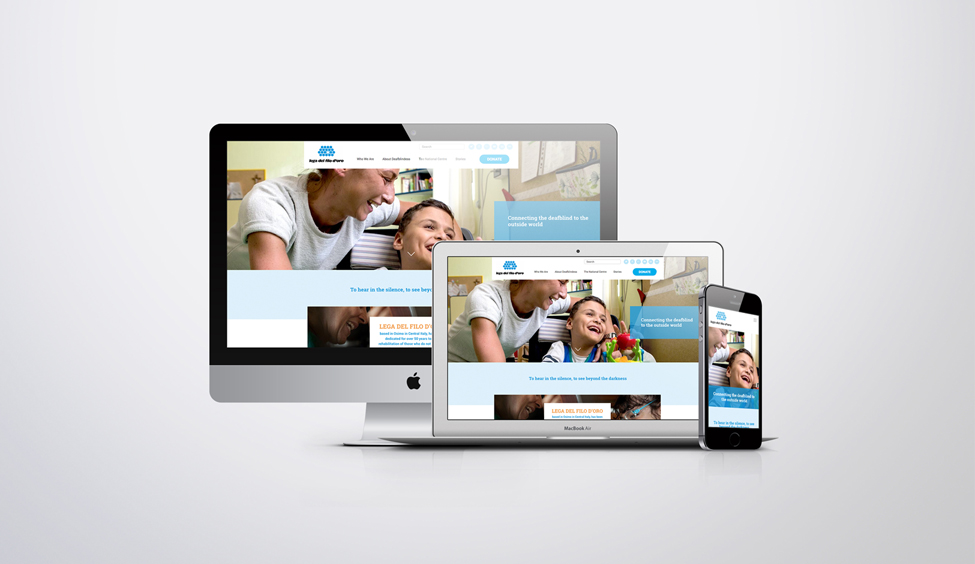 SUMMARY
Lega del Filo d'Oro is an Italian nonprofit organization dedicated for over 50 years to the rehabilitation of those who do not see and do not hear. Sabina Santilli founded Lega del Filo d'Oro in 1964 because she strong believed that everyone, no matter how serious their condition, as the capacity to learn. Deafblind since the age of 7, she understood from her own experience how deafblindess could lead to a lack of support, education and services.
With unwavering commitment and dedication, Lega del Filo d'Oro serves its users and their families: deafblind people and those who have other forms of severe physical and learning disabilities in addition to deafblindess. Lega del Filo d'Oro's multidisciplinary approach develops personalized and innovative program specifically designed according to each user. It is their vision that these individuals are empowered to live their best lives as full members of society.
In 2016, Lega del Filo d'Oro launched Friends of Lega del Filo d'Oro in the United States. In the spirit of its founder, its purpose is to embrace the friendship between Italy and the United States and to invite new friends to join their community.
Funds raised will support the second phase of the ambitious new National Centre complex, which will increase the services offered and expand the current center's capacity so even more individuals can benefit from Lega del Filo d'Oro's excellent care.
PROJECT
Lega del Filo d'Oro has a robust fundraising program in place in Italy, but has never fundraised outside of its borders. To explore the viability of such an endeavor in the American market, Faircom New York conducted a feasibility study to define institutional and individual giving prospects and created a unique positioning statement and fundraising strategy for Lega del Filo d'Oro.
In addition, while Lega del Filo d'Oro has an established and recognized brand identity in Italy, they lacked informational materials in English. As a first step, Faircom New York created an English institutional brochure, providing an overview of LFO's services and impact. This encompassed in-house translation of the original Italian copy, copywriting, design and production. In addition, an English-language website targeted at an American audience is underway, to compliment Lega del Filo d'Oro's existing Italian web presence.
RESULTS
As part of the strategic implementation, representatives of Lega del Filo d'Oro visited New York and Washington, DC to open relationships with interested stakeholders. This has laid the groundwork for further actions in the coming months, including an upcoming trip in October and cultivation events.
STAY TUNED!
Stay tuned for more updates on this client. We will be unveiling the American audience website this summer. We are excited that Lega del Filo d'Oro is the charity partner of Panorama d'Italia, a Panorama newsmagazine roadshow that will be coming to the United States for the first time in the fall. A week of events are planned for the roadshow, including a gala benefitting Lega del Filo d'Oro.
In addition, Faircom New York will be creating additional materials to supplement the brochure, further expanding Lega del Filo d'Oro's arsenal of English-language communications materials.