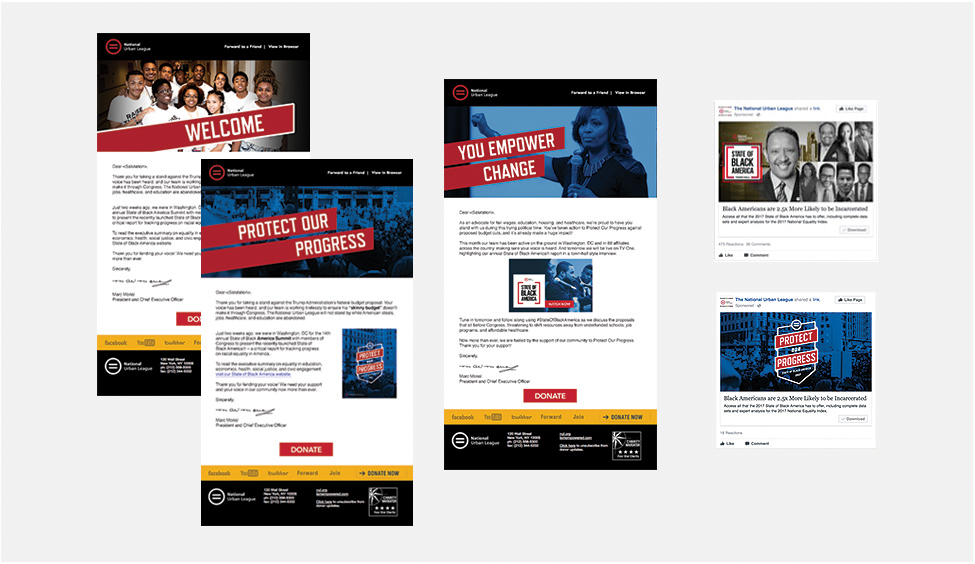 Challenge:
The National Urban League, a historic civil rights organization, expanded their partnership with us to develop a new digital fundraising program to further their mission of elevating the standard of living in historically underserved urban communities. They were looking to grow integration, cultivation and fundraising efforts.
Solution:
We helped the National Urban League increase their visibility, acquisition and fundraising by:
• Creating a 3-part email append and email change of address acquisition effort
• Running a State of Black America Facebook Lead Generation Campaign
• Launching a Care2 petition
• Producing integrated appeals for donors and non-donors
• Establishing an annual fundraising and cultivation program for donors outside of integrated appeals
Results:
• A total of 4,950 new email addresses were acquired from the Care2 petition, surpassing the initial goal of 3,000.
• The Facebook Lead Generation Campaign captured 3599 new email addresses with a cost per lead at $0.83, nearly 30% under Facebook's benchmark. In total, 125,605 people were reached with the ads.
• The 3-part welcome series had high open rates. Email 1 had an open rate of 20.85% and Email 2 had a 28.96% open rate, above industry benchmarks.
• In total, 11,188 new leads were captured through email acquisition.
• The Fiscal Year Online revenue increased by $23,156.30 (3,151%) and total gifts were up by 190%.