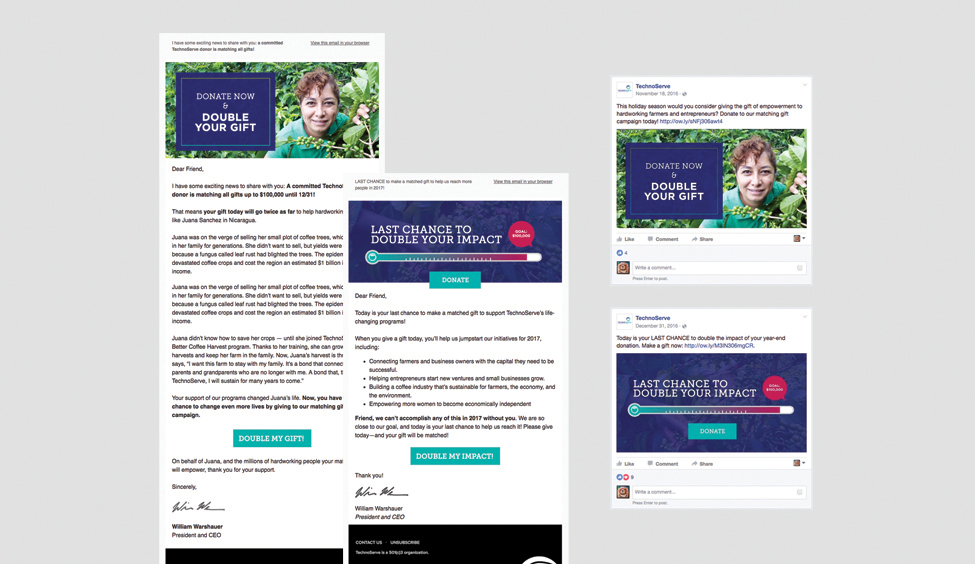 Challenge:
TechnoServe (TNS), an international nonprofit that provides business solutions to poverty in developing countries, had a generous donor who wanted to make a difference with a large gift late in the year. Our challenge was to integrate the matching gift messaging into an already successful year-end fundraising campaign.
Solution:
• We developed a strong integrated direct mail and digital campaign that spoke to donors, thanking them for their past support and emphasizing the need for their continued support.
• We incorporated the matching gift language into a three-part mailing and multi-part email series as an incentive for donors to increase their impact with their donation at end-of-year.
Results:
• The direct mail piece lead to a 2.6% year-over-year increase in response and a 1.5% increase in average gift.
• The three-part mailing that included match language garnered a 3% increase in year-end revenue.
• In emails, the matching gift language resonated with the one-time donor segment: the first matching gift email received a 21.5% open rate from one-time donors, which is well above industry average.
• The entire campaign raised nearly $7,000 online.
• Early 2017 fundraising revenue indicated the matching gift had no negative impact on future gifts.