At Faircom New York, we keep a pulse on how nonprofits are using technology to raise funds and, almost equally as important, we follow the for-profit sector to learn about consumer behavior. 
If businesses are using technology successfully to convert leads to sales or to strengthen relationships with their existing customers, often, that technology is quickly adopted by nonprofits with great success. Businesses have the deepest pockets to test different communications strategies effectively — why not learn from it?

I'm sure you have all read about the increase in giving by mobile device and specifically in response to texting.  

According to Non-Profit Source, the average donation size for text-to-donate fundraisers is $107. That's a very nice sum indeed! 

And, it takes 90 seconds to respond to a text, versus 90 minutes by e-mail. When nonprofits test texting, the learnings are practically immediate, enabling us to tweak each campaign with the goal of improving it much more rapidly than we could with any other medium.

Donors who give by text also are not youngsters— they hit your fundraising sweet spot falling between the ages of 49-59, the point where they have money to give, they have time to upgrade and become major donors, and they are likely planning their estates which could include you.

Texting is becoming a transactional norm. According to ZipWhip, a texting service for corporations, consumers are adopting texting to conduct business at leaps and bounds. Here is a digest of recents stats that they published:
At Faircom, we're helping our clients develop their text to donate platforms. Give us a call to see how we can help you to launch a successful text to donate platform, or email me at sally@faircomny.com.
---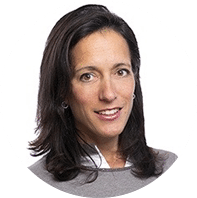 About the author
Sally Frank — Senior Vice-President, Social Media and Digital
Sally has over 20 years experience in direct marketing, having worked in both the for-profit and non-profit sectors. From using data driven techniques to solicit small business card members for American Express, to targeting investors for Goldman Sachs' start up, GS.com, Sally brings a diverse background to Faircom New York. She works with Human Rights Watch.
Sally has a B.A. from Brown University and an M.B.A./M.A. from NYU's Stern School of Business and Institute of French Studies, including studies at Hautes Études Commerciales in France. Outside of work, Sally likes to cook and run (not usually at the same time, but with four kids, the two activities sometimes overlap), and she plays flute in the Riverwinds Woodwind Quintet that she founded in 2010.