At Faircom New York, we are prioritizing Donor-Advised Fund (DAF) giving and working intensely with our clients to optimize their chances of receiving DAF gifts.
Why do we tell our clients to prioritize DAF giving?
Contributions to DAF accounts accounted for nearly 13% of all US individual contributions in 2019!

This is slated to grow by 20-30% for 2020.

There were nearly 900,000 DAF accounts in 2020, and this too is growing.
DAF giving is projected to reach $31-$40 billion in 2021.

That is over 10% of all individual giving.

That will equal or surpass bequest giving and foundation giving.

Many of our client's existing donors have DAF accounts.

A donation from a DAF account is up to 10 times as great as a cash donation from the same donor.

COVID-19 has created an unprecedented need for charitable contributions and philanthropic influencers are successfully persuading DAF account holders to give as generously as possible, rather than leaving funds in their accounts.

#HalfMyDAF challenges donors to donate at least 50% of their DAF funds.

DAF giving is easy to do for donors

Ease of giving is paramount in successful fundraising.
If you are a non-profit fundraiser reading this right now, we hope that you will prioritize DAF giving in your marketing plans. It's not difficult to do.
Here are 10 tips and ideas:
1. MAKE IT EASY: Place a DAF giving widget on your website donation page.
Here is a sample of a DAF widget on a Faircom client page.
2. ALWAYS ASK: Include a DAF ask in every solicitation response vehicle.
Direct mail business reply form
Friendly URL donation form
Website donation form
Event tickets
Event donation table cards and auctions
Monthly giving donation page
Here is a sample BRC that Faircom designed for a client. You can see the addition of a DAF giving option. It takes very little space.
3. SEGMENT: Tag DAF donors in your database to identify them as people who have already given via DAF so that you can ask them to give a DAF c contribution in the future.
4. INCLUDE PLANNED GIVING: Remember to ask DAF donors to name your charity as a beneficiary of their DAF account. Include DAF information in your planned giving solicitations.
5. BE SOCIAL: Leverage DAF campaigns online. Jump on the #HalfmyDAF campaign to encourage donors to choose your charity as a DAF donation recipient.
6. INFORM: Explain DAF giving on your website with a DAF page, and let your donors know that your organization accepts DAF donations.
7. ACKNOWLEDGE: Remind your donors to supply their personal information when they give from a DAF account so that you can properly thank them for the gift. (But remember, DAF gifts are not tax-deductible, because the donor received the tax deduction when they deposited the funds originally, so make sure your acknowledgements for DAF gifts do not include tax deductibility language)
8. TRACK: Include DAF gift reporting in your campaign appeal analyses to track performance by channel and appeal—and to prove that your marketing efforts are working!
9. MATCH: Many DAF account holders work for corporations that will match their gifts to your charity. Remind donors to process their requests for matching gifts.
10. REMAIN EDUCATED: Bookmark our site for updates about DAF giving and other tips for maximizing your fundraising. Sign up for tips by email and invitations to webinars.
To help keep yourself organized, and to make sure you maximize your opportunity to raise DAF funds, here's a handy checklist.
---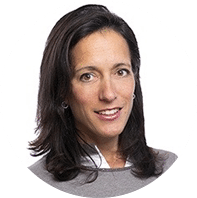 About the author
Sally Frank — Senior Vice-President, Social Media and Digital
Sally has over 20 years experience in direct marketing, having worked in both the for-profit and non-profit sectors. From using data driven techniques to solicit small business card members for American Express, to targeting investors for Goldman Sachs' start up, GS.com, Sally brings a diverse background to Faircom New York. She works with Human Rights Watch.
Sally has a B.A. from Brown University and an M.B.A./M.A. from NYU's Stern School of Business and Institute of French Studies, including studies at Hautes Études Commerciales in France. Outside of work, Sally likes to cook and run (not usually at the same time, but with four kids, the two activities sometimes overlap), and she plays flute in the Riverwinds Woodwind Quintet that she founded in 2010.