Volatility, Uncertainty, Complexity and Ambiguity.  VUCA, coined in 1987 by leadership theorists Warren Bennis and Burt Nanus, and employed most notably during the collapse of the USSR in the early 1990's, has never seemed more relevant for fundraisers operating in a world stricken by a pandemic, civil unrest, brazen sedition, record numbers of refugees and homeless people, soaring unemployment, and an economy reacting in ways never before seen.  We are all living and operating in volatile, uncertain, complex and ambiguous times. 
In this state of extreme, perhaps unprecedented, worldwide VUCA, Faircom New York is assisting our domestic and international clients in planning, budgeting, forecasting and strategizing to navigate a landscape that screams for thinking differently.
Let's look at this chart[1] to break it down:
We now accompany every SWOT analysis (see our SWOT blog) with a VUCA analysis tailored to each client's mission, donor base, stakeholder network, fragility or fortitude. Every nonprofit, no matter how deep its pockets, no matter how large its donor base, no matter how compelling or relevant its mission is to the current problems we face, is impacted by the world's state of VUCA. Those who confront it, break it down, plan for it, and arm themselves with the tools to make as much sense as possible from so many unknowns, will be the ones not only to survive the tumult, but to come out stronger and better equipped in the long run.
Contact our Senior Vice President of Social Media and Digital, Sally Frank, at 516-268-3327 or sally@faircomny.com, to talk about your nonprofit's VUCA profile.
---
[1] Adapted by Faircom New York for fundraising in 2021 from: https://hbr.org/2014/01/what-vuca-really-means-for-you
---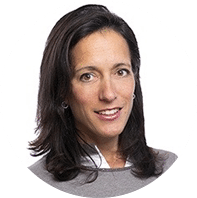 About the author
Sally Frank — Senior Vice-President, Social Media and Digital
Sally has over 20 years experience in direct marketing, having worked in both the for-profit and non-profit sectors. From using data driven techniques to solicit small business card members for American Express, to targeting investors for Goldman Sachs' start up, GS.com, Sally brings a diverse background to Faircom New York. She works with the Cousteau Society, the Nelson Mandela Foundation, Human Rights Watch, USCJ, and TechnoServe among others.
Sally has a B.A. from Brown University and an M.B.A./M.A. from NYU's Stern School of Business and Institute of French Studies, including studies at Hautes Études Commerciales in France. Outside of work, Sally likes to cook and run (not usually at the same time, but with four kids, the two activities sometimes overlap), and she plays flute in the Riverwinds Woodwind Quintet that she founded in 2010.