Faircom New York
Whatever your mission, wherever you are based, Faircom New York will partner with you to raise funds via mail, digital, social media, mobile, peer to peer, or events.
With offices in New York and California, we partner with US and internationally-based nonprofits of all sizes and reach. What makes Faircom New York different is our brand of integration. When your message is layered by channel, capturing people at the right time, your ROI reaches maximum potential.
We are passionate about the cause you fight for.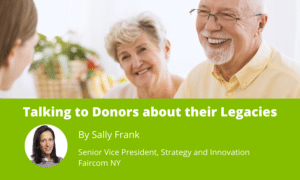 As a fundraiser, you probably know that now is the time that you should be talking to your donors about planned giving and how they can name your organization in their will. But maybe you and your colleagues don't know exactly how to do that. It's actually easier (and more enjoyable) than
Read More »
TO MAKE THE BIGGEST IMPACT,
nonprofits need to reach supporters wherever they are: in person, in the mail, on their phone, or online.
Rather than focus on specific channels or giving levels,
we pride ourselves on our ability to craft INTEGRATED CAMPAIGNS that connect your donors in new and innovative ways across every fundraising medium.
We tailor our services to meet the needs of our clients, and we're passionate about your cause. Whether you're defending civil rights, expanding health services, or leveraging legal change —
we're ready to raise funds and reach your supporters.
Faircom NY helped us fully integrate our marketing, including planned giving. Faircom has strengthened the core of our messaging. Their copywriters, designers and developers are second to none. Faircom is incredibly strategic, data-driven, and committed to helping us articulate our mission to a broad audience of supporters. They work tirelessly to help us acquire and cultivate new constituents. They have enhanced our marketing – turning our program into one that is a smartly segmented, data-driven, and robust.
Faircom NY has been the strategic partner of Friends of Notre-Dame de Paris for the past 2 years, helping us build our operations in the U.S. and internationally. Their unique knowhow and their professionalism in the field of fundraising is key to our success and we have progressively expanded the scope of our partnership from major donors strategy and event management to digital marketing and direct marketing. Their ability to support the change of dimension of our work after the terrible fire of April 15, 2019 in terms of data management, information systems and strategies for a multichannel approach helped us transform our charity into one of the most successful and leanest in the marketplace. We are very grateful to Faircom NY for their unrivalled and always smiling support to Friends of Notre-Dame de Paris.
Faircom NY takes a creative approach but remain bottom line-driven to achieve your revenue goals! They also meet you where you are. FaircomNY is up to date in regard to methods and new ways of work and not shy about giving you a nudge to take risks. They hold themselves accountable for results and are always willing to course-correct if something isn't working as expected. It's a good group of people to work with, a strong team with experts in many areas.
I learned so much about digital fundraising during the two days of intensive training by Faircom. The whole experience was very educational. All theory (in a thick bundle that you can take with you) is based on Faircom's many years of experience and illustrated with practical examples. During the session, the Faircom employees were happy to share their failures and best practices. They were very open and willing to share their knowledge. Carla was a wonderful teacher. She was friendly and calm and patiently answered all our questions. She clearly knows what she is talking about: she has a lot of knowledge about digital fundraising and is in my opinion a real expert on the subject. The people at Faircom were all very friendly and welcoming. There's a pleasant vibe at their New York office. And also important: every day we were treated to coffee and water, biscuits, snacks and a healthy and delicious lunch.
Faircom was crucial in turning our direct mail program around. Working together, we made smarter decisions that benefited our program and improved our results. We reduced package costs, identified new opportunities for audience segmentation and created a better flow to our program overall. Additionally, I appreciated their direct style and collaborative approach to ensure that our program was customized to fit our needs.
When I arrived at New York Restoration Project, I brought Faircom with me because I deeply valued their partnership approach to fundraising. Unlike many other consultant agencies, Faircom didn't cite superior wisdom and dictate rigid strategies. Instead, they worked alongside me and my team to understand our challenges and together create a better approach. I valued their experience, and they respected mine—which meant that sometimes we argued, but always it resulted in a better, more successful campaign.
Faircom NY is an extraordinary organization. They are thoroughly professional, extremely competent and knowledgeable, quick, nimble, and above all, effective. Our fundraising efforts in the US were helped immeasurably by their guidance and day-to-day collaboration. We always feel as though we are their only client. I would recommend them without reservation to any non-profit looking to raise funds or to enhance its visibility and profile in the US.
We are proud to be a founding member of the Nonprofit Alliance, an organization dedicated to a thriving nonprofit sector that has the resources and influence to meaningfully change the world.

Whether you're a one-person team or have offices around the world, we have the resources to help expand your fundraising. Sign up to receive these resources right in your inbox.