We're delighted to share some incredible news – our team clinched not just one, but THREE prestigious MAXI Awards, recognizing our outstanding work in marketing for the nonprofit sector. These accolades symbolize our commitment to making a profound impact and supporting vital causes that resonate deeply with our hearts and values. 
Below we share more details and images from these campaigns, and if you are interested in learning more about how we can put similar strategies and passions to work in elevating your future fundraising efforts, please contact our team today. 
🥈

Silver Medal: Nonprofit Special Appeal Multi-Channel Campaign for Human Rights Watch Ukraine Emergency Integrated Appeal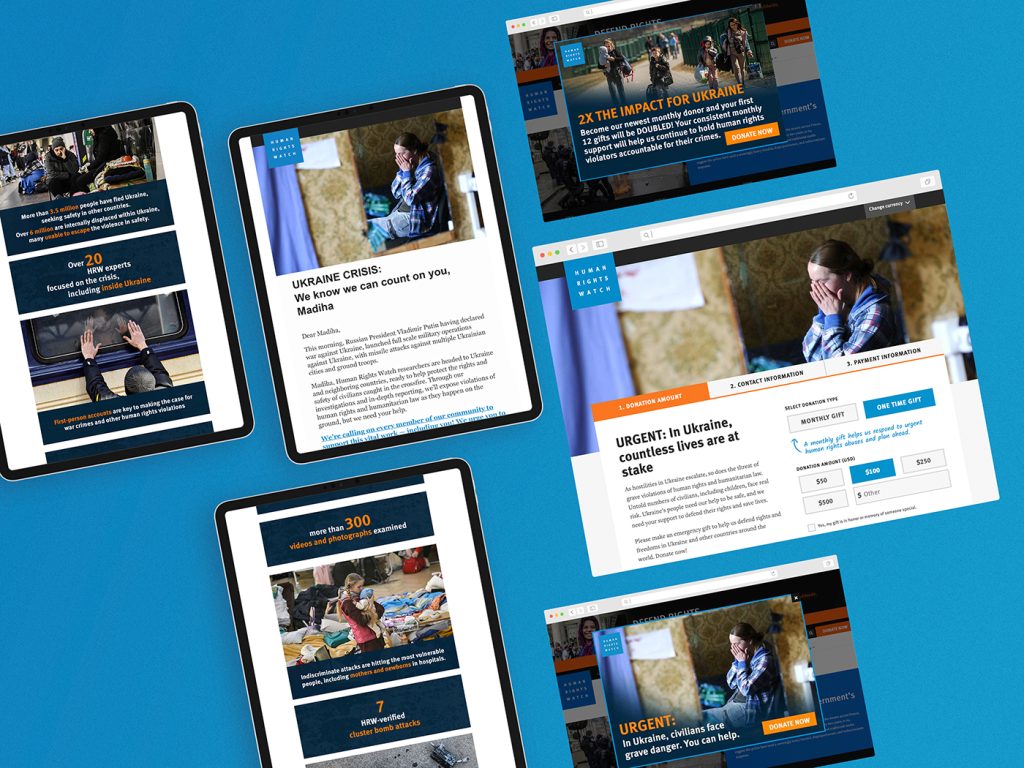 In response to Russia's invasion of Ukraine, we swiftly initiated a comprehensive strategy to support Human Rights Watch (HRW) in exposing grave human rights violations. Our multi-channel approach aimed to rapidly engage HRW donors and sustain their involvement as the conflict evolved, resulting in a substantial surge in both one-time and monthly revenue. 
Within 24 hours of the invasion, we launched a digital campaign spotlighting HRW researchers and their vital role in documenting and safeguarding Ukrainians' rights. An emergency Air Gram was dispatched a week after the invasion, strategically timed to remain at the forefront of the news cycle. The mail appeal featured a red outer envelope and a bold "Ukraine Crisis" call-out, amplifying urgency. Additionally, a QR code facilitated seamless donations online. 
The campaign's comprehensive design and strategy were pivotal in conveying the gravity of the crisis, utilizing gripping visuals to portray the devastating impact of war in Ukraine. And, the results were astounding. The offline appeal raised six-figures, boasting an impressive average gift of nearly $300 and an ROI close to $10. Online revenues raised accounted for approximately 20% of donor giving in this channel. This success was further underscored by acquiring new monthly donors, including mid-level contributors, who will help solidify a sustainable donor base. 
🥉

 

Bronze Medal: Nonprofit Renewal Digital Media Campaign for Human Rights Watch 24-hour Digital Match Campaign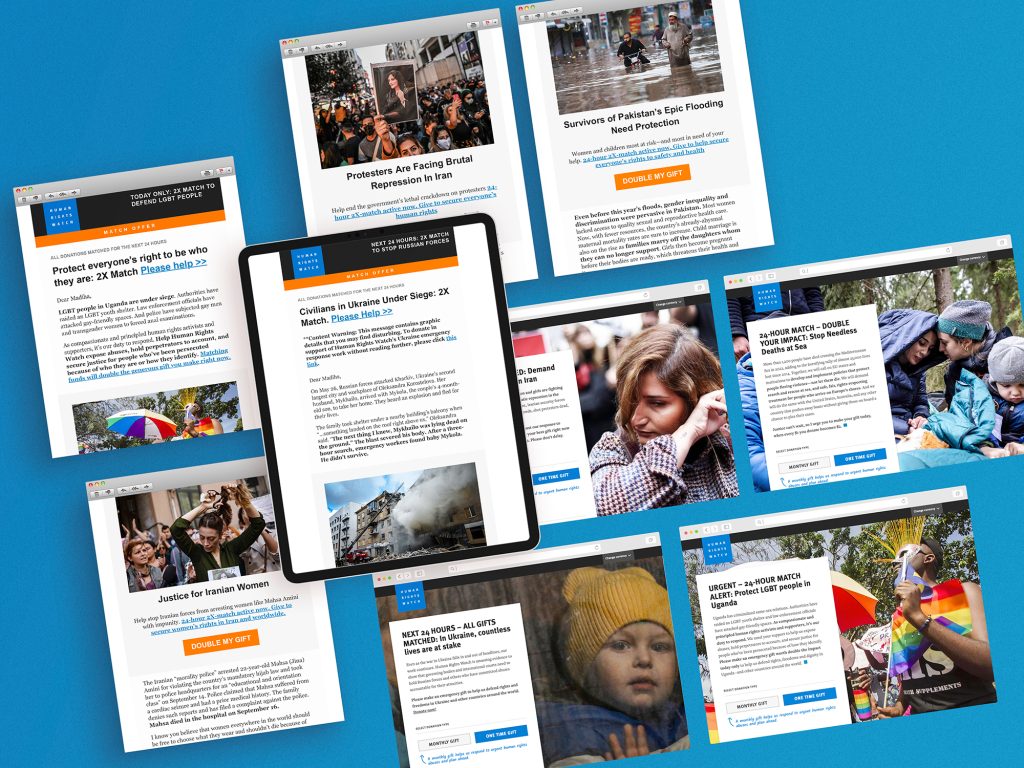 As email revenue experienced a noticeable dip due to economic factors felt across the industry, our mission was clear: Reinvigorate HRW's email giving. We swiftly departed from conventional institutional messaging, introducing a rapid response strategy where donors' gifts were matched for a single day. This shift resulted in an impressive 24% surge in revenue year-over-year, a pointed uplift compared to previous campaigns that set a robust precedent for the future. 
Across the campaign, we responded dynamically to recent HRW news, leveraging them as "mini emergencies" for targeted fundraising. Each email focused on a specific topic in "hot spots" of HRW action, linked with dedicated landing pages and advertisements to maximize impact. The strategy not only significantly expanded the donor base but also offered valuable insights into audience preferences, essential for shaping subsequent campaigns, including those for Giving Tuesday and Year-End initiatives. 
Our approach tailored to diverse audience segments was crucial. Active donors, including mid-level and high-dollar contributors within 0-30 months, and active monthly donors within 0-12 months, formed key cohorts upon which we focused. We also sought to engage lapsed donors, both mid-level and high-dollar, within 31-121 months, lapsed monthly donors within 13-30 months, and non-donors/prospects to ensure a broad-based and comprehensive outreach strategy. 
The results spoke volumes, helping bolster immediate revenue but also positioning HRW for a more engaged and supportive donor base. It validated the efficacy of strategic, targeted approaches, setting the stage for a stronger HRW, passionately advancing their mission for human rights. 
🥉

 

Bronze Medal: Nonprofit Acquisition/Prospecting Workhorse Campaign for Glaucoma Foundation Control Acquisition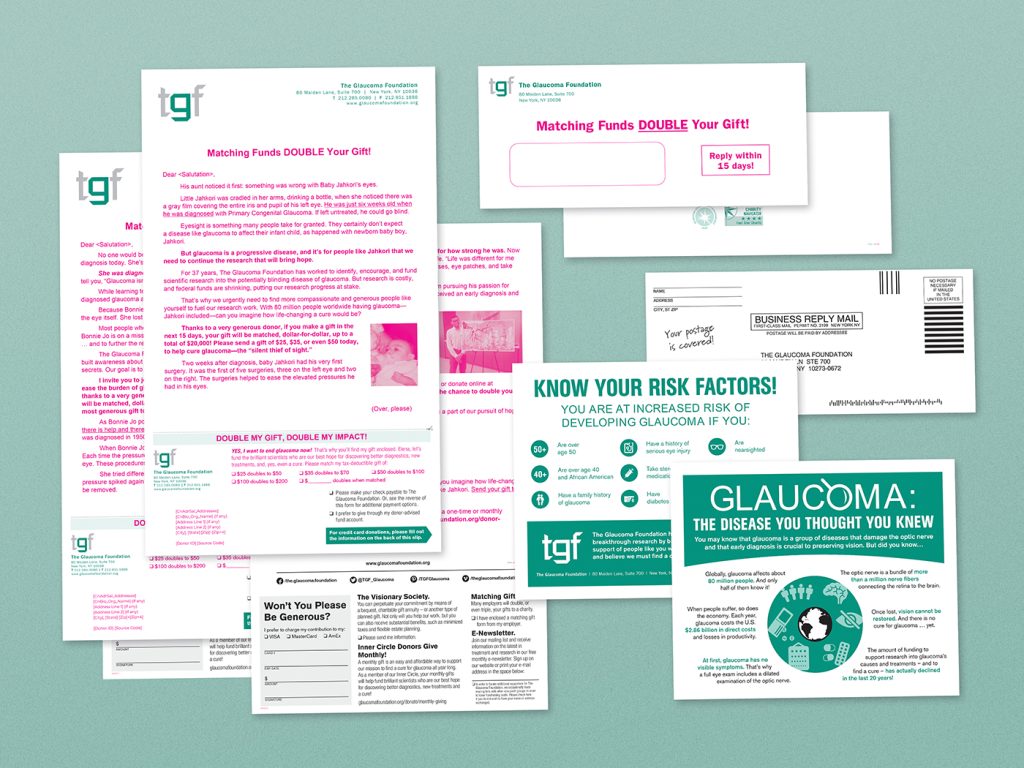 We had two aims in this initiative: Create a powerful control acquisition package for The Glaucoma Foundation (TGF) to acquire new donors, and simultaneously combat attrition while expanding their donor base. 
The strategy was meticulously crafted to resonate with our target audience, inspiring them to take action through compelling, educational content. Central to this strategy was a poignant personal story illustrating the lifelong challenges of living with glaucoma, giving prospective donors a snapshot human experience that helped tie them to the mission. Educational content highlighted the risk factors associated with glaucoma, helping prospective donors better understand the disease. Additionally, the critical work of TGF in advancing innovative research, collaboration, and education to develop a cure for glaucoma took center stage. Leveraging a matching gift, we incentivized prospects to contribute, amplifying their impact. 
The target audience comprised non-donor prospects and lapsed donors within the 37-60 months, who had previously contributed $10 or more. 
The impact was nothing short of remarkable. This control acquisition package emerged as a standout performer, consistently surpassing our expectations. Beyond its efficacy, it showcased cost-effectiveness that ensured a positive net income, a rare feat in prospecting efforts. Over the last three years, rigorous testing and strategic enhancements have further bolstered the package, resulting in a notable 34% lift in response rate and an impressive 30% increase in net income. Ultimately, this translated to an outstanding $17.70 per new donor, significantly optimizing the cost of acquisition. Our meticulous testing strategies played a pivotal role, continually enriching the control package and cementing its status as a highly successful revenue generator for TGF. 
A Resounding "Cheers!" to All Winners!
In addition to our wins, we had the privilege of sponsoring this year's MAXI Awards celebration. This event was a fantastic opportunity to connect with fellow professionals and celebrate the collective successes of our industry. Congratulations to all the winners and, most importantly, to the nonprofits behind these exceptional campaigns. Together, we are indeed making a lasting impact on the world.