What is nonprofit email marketing?
Email marketing is one of the most profitable direct marketing channels, generating an average return on investment of $42 for every $1 spent. Your organization can use email for donor acquisition and cultivation, fundraising appeals, updates on your policy or advocacy work, volunteer communications, and promoting events. 
Request a free quote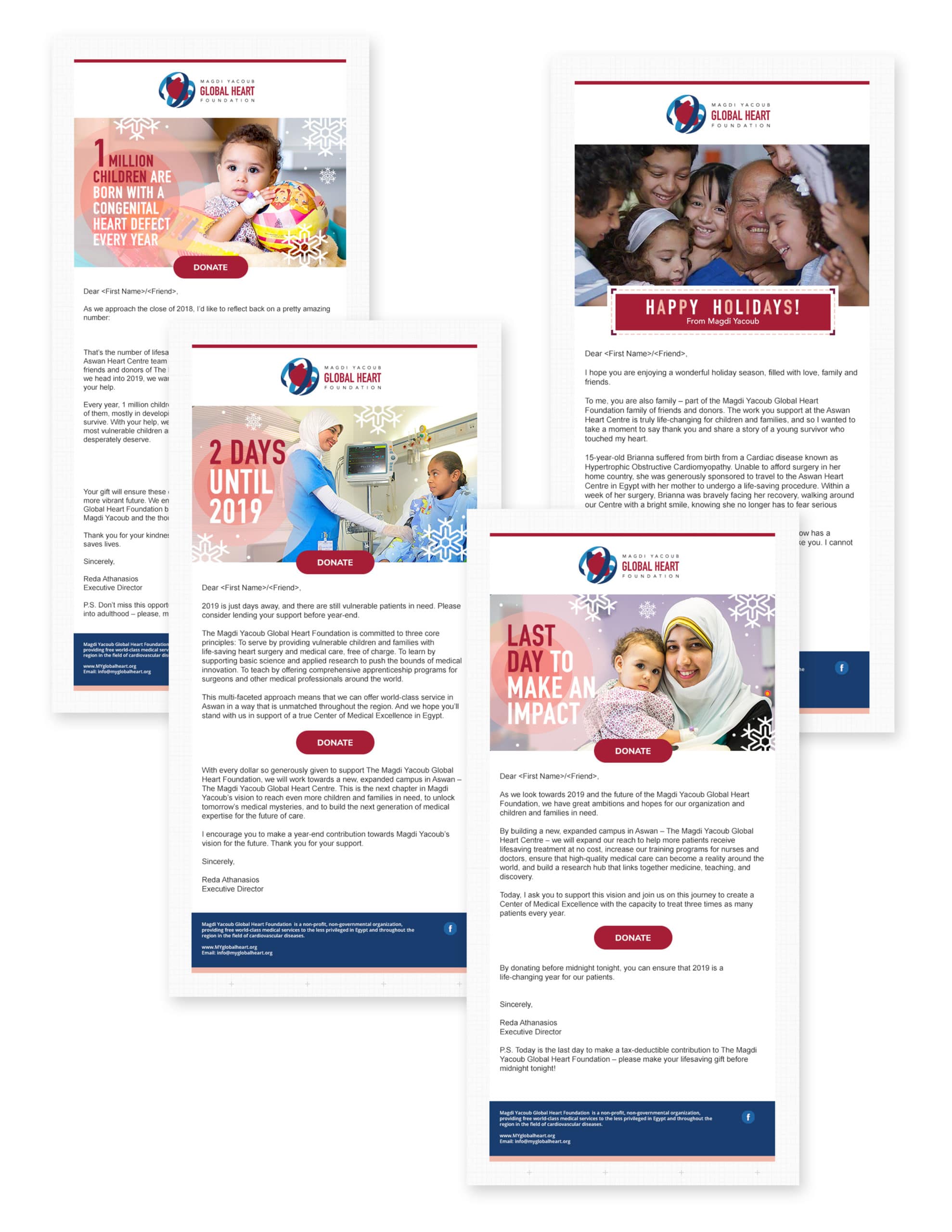 Email should be a key pillar of your integrated marketing strategy, and can be used at all stages of the donor journey. For example, we often recommend an automated welcome series for new donors, automated emails to lapsed donors to re engage them, and integrating email with your direct mail campaigns.
Why use email marketing for nonprofit fundraising?
Email messaging drove 13% of all online revenue in 2020. Email is also a powerful tool when integrated with direct mail, digital advertising, and other fundraising communication streams. In fact, marketing campaigns that used direct mail and 1 or more digital media platforms experienced a 118% lift in response rate compared to using direct mail only.
Email marketing provides a variety of other advantages including the ability to test different variables (subject line, send time, copy, creative) and the ability to quickly respond to headlines and world events related to your organization's mission.
What makes a great fundraising email?
A great email starts with a compelling subject line. Personalizing your subject lines, testing different copy, and including emojis can all boost open rates. The design of your email is also important. You should use a branded template with a header image and include images or graphics in the email copy. Buttons encourage your audience to click and complete your Call-To-Action (CTA) such as donate, buy tickets, or sign up for your monthly giving program.
Your email should also be optimized for mobile devices, as most emails are read on mobile:
Short, scannable copy is ideal.

Use headers, bolded text, bulleted lists, and large buttons to encourage clicks on mobile.
Most importantly, your message should be emotionally compelling and urgent, describing your organization's impact and how your donors can contribute to your cause with their gift. While we encourage creativity to make your email appeals stand out from competing organizations, no gimmick or witty opening line can replace clear, readable, and moving storytelling.
Faircom New York's Approach to Nonprofit Email Marketing
We first work to understand our client's needs and goals when it comes to nonprofit email marketing. We use your existing email campaigns and mailing list data to audit your current program and make recommendations for improvement based on industry benchmarks, best practices, and competitor analysis.
We also provide support for clients in the following areas:
Email strategy

Email c

ampaign development (copy and design)

Reporting

Email list management and data hygiene
Email design and branding