A healthy mid-level giving program is critical to the success of your overall program.  And if you read our previous blog on the basics of mid-level giving, then you know exactly why these donors are so valuable. Using a mix of different techniques across channels can help you zero in on the best cohort of mid-level donors – and then move them up the donor pyramid.
Here are three case studies for success showing how you can implement mid-level messaging to your donor base:
1. Reaching Direct Mail Donors: TechnoServe Mid-Level Challenge Match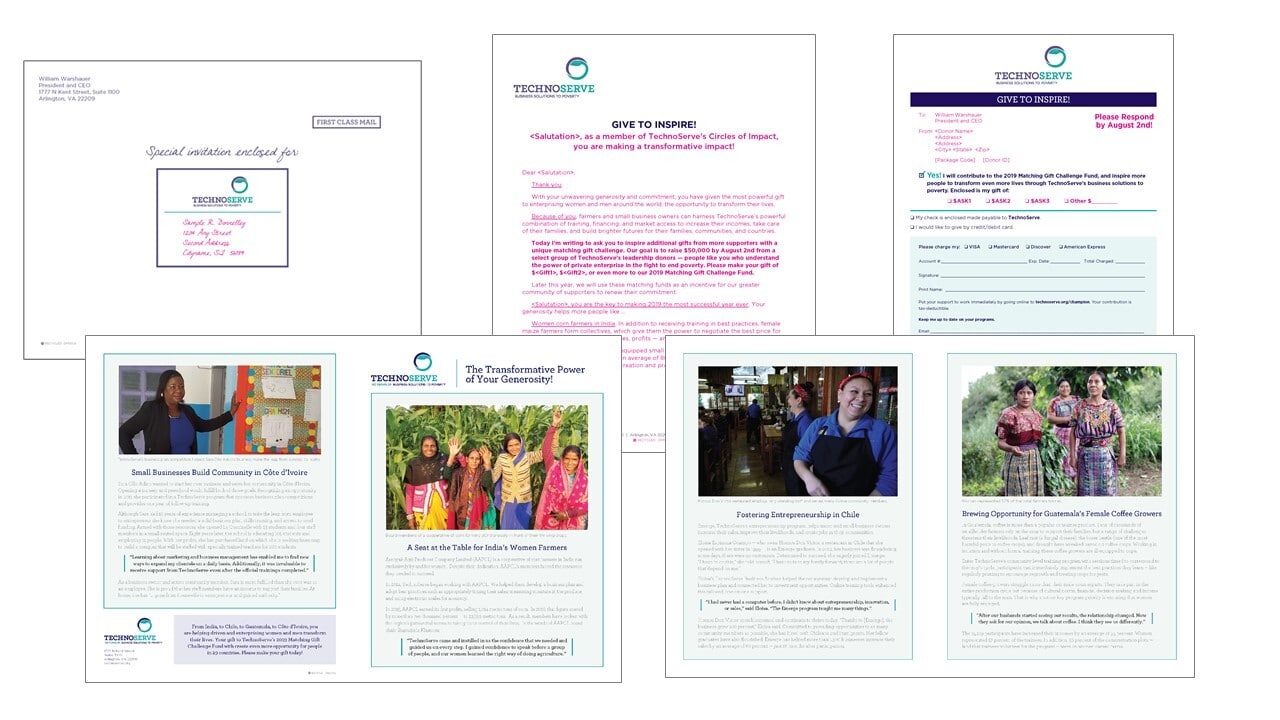 The Challenge: TechnoServe benefits from a solid group of high-worth donors in their file. Donors with a 12-month cumulative giving of $250 are part of their 'mid-level' group and show a great opportunity for further engagement and upgrades. 
The Solution: Faircom New York developed a unique package for TechnoServe – a "Challenge Match," where mid-level donors were asked to contribute to a $50,000 goal. That money would be used later in the year as a matching gift campaign to inspire additional gifts from the rest of the donor file. 

The appeal itself was a high-touch invitation package, mailed in a 9 x 12 envelope, and included a four-color newsletter-style insert with four beneficiary stories, demonstrating the impact of a donation. Following the initial mail drop, a simple follow-up mailing was sent to non-responders. Additionally, an integrated email was sent out, leading donors to a unique landing page. 

The Results: Results outperformed budgeted goals, with nearly twice the number of gifts than initially estimated and a return rate of 10.23%. TechnoServe exceeded the $50,000 goal, and this unique challenge allowed the organization to engage mid-level donors in a valuable way. This Challenge Match package has now become a tried-and-true appeal for TechnoServe. 
2. Reaching Online Donors: Magdi Yacoub Global Heart Foundation Year-End Series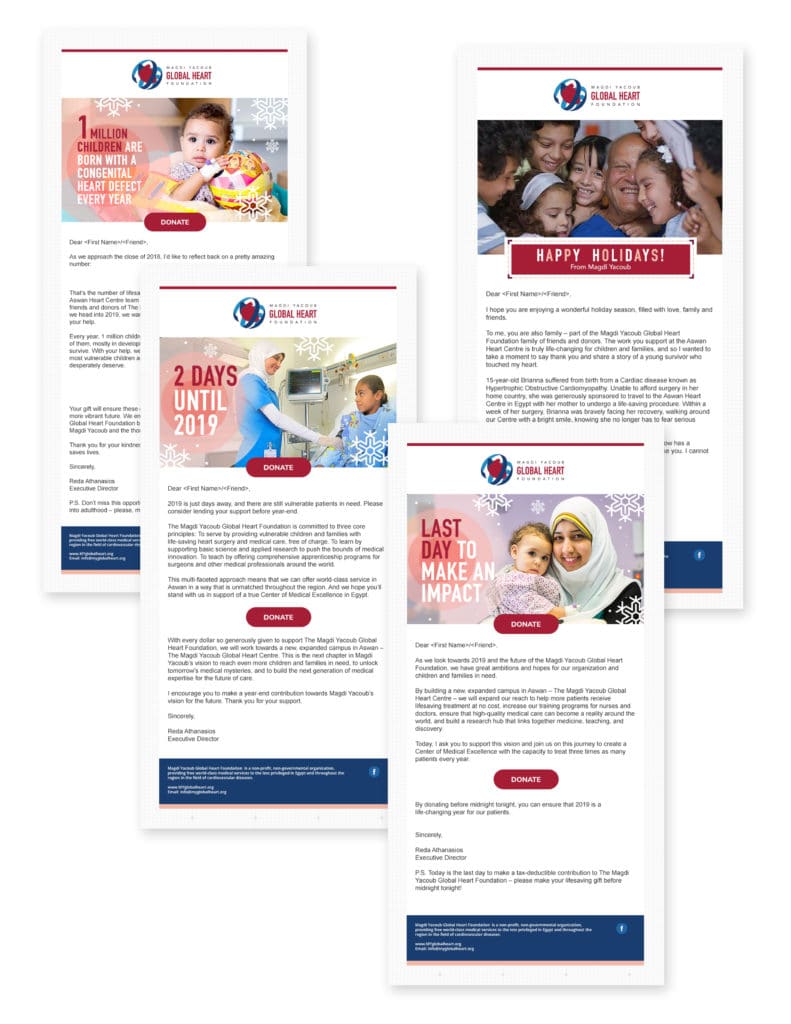 The Challenge: The Magdi Yacoub Global Heart Foundation (MYGHF) had never before launched a year-end fundraising campaign. Following the launch of new branding, along with the momentum of year-end, it was an ideal time to reach out to their small but loyal cohort of mid-level donors and open a new channel of communication with this core group of donors. 
The Solution: Faircom developed a schedule of four emails, beginning with pure cultivation wishing donors a happy holiday and warming them up for the year-end giving series. A week later, the three-part solicitation series launched. Each email used powerful images of beneficiaries, emotionally engaging content, and multiple opportunities to click-through to give. All solicitation emails came from the Foundation's Executive Director to give emails a more personal feel. Utilizing the powerful name recognition of the organization's founder, and creating an even greater sense of personal connection, the cultivation message came from Prof. Sir. Magdi Yacoub. 
The Results: The results were outstanding, particularly given the small base of mid-level donors. The average gift across all appeals was $556.02. Email 2, the first solicitation email, performed the best, demonstrating that warming donors up with a cultivation message was an effective strategy. This was a very promising start for their email fundraising program. 
3. Launching a Giving Circle: Friends of Notre-Dame de Paris's 1163 Society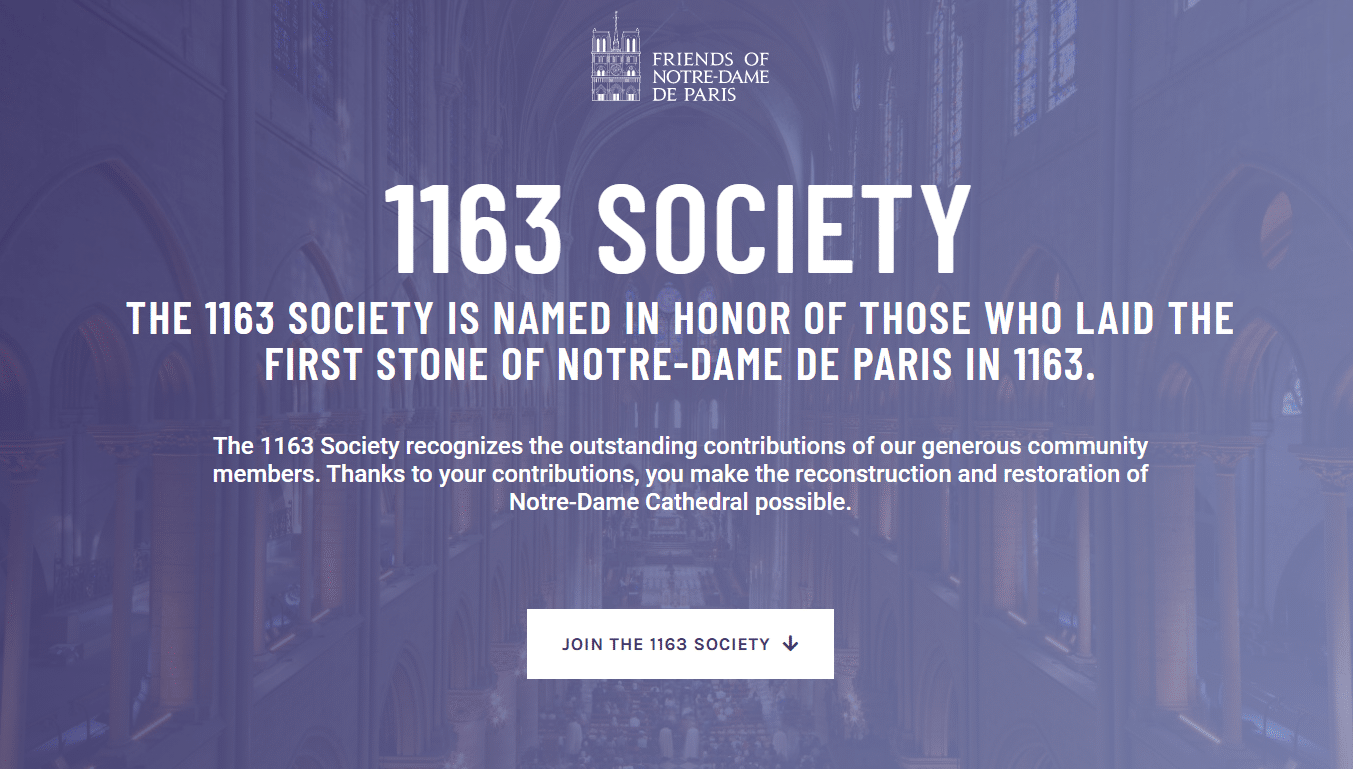 The Challenge: Friends of Notre-Dame de Paris is the non-profit fundraising arm of the Notre-Dame Cathedral, and following the 2019 fire, the need for a solid base of funds has increased. Engaging mid-level and major donors, and increasing upgrades from this group of donors, is vital to building donor engagement, increasing loyalty, and to secure a stream of unrestricted revenue. 
The Solution: Developing a membership-based giving circle encourages a sense of belonging for these donors and builds a direct line of communication between the organization and the donor. For Friends of Notre-Dame de Paris, Faircom built a plan of action to develop and market a new giving circle called "The 1163 Society." 

Membership levels were established for donors from $250 per year through $10,000+. Each level paired with a thematic name – including a symbolic level "Mason" that starts at $1,163. 
Member benefits were outlined for each level, ranging from a special Notre-Dame de Paris pin to an exclusive invitation to a "State of the Cathedral" Town Hall discussion. Back-end fulfillment was arranged for all physical benefits. 

A dedicated webpage built

on the Friends of Notre-Dame website, clearly outlining all benefits and allowing prospects to make a donation immediately. 
Direct mail donors were solicited with a special invitation to join the 1163 Society. Included with the appeal was a personal letter from the organization's President, and a flyer outlining all benefits. 

The Results: The 1163 Society launched without a hitch and saw positive feedback from solicited donors. By presenting a clear need and thematic membership tiers with clear and valuable benefits, donors will be able to choose a level of engagement that is right for them now, This allows for the opportunity to upgrade into higher giving level tiers and builds loyalty over time. 
Mid-level donors are not just found only in the mail or only online.  That is why a multi-channel approach to mid-level giving – that is, reaching donors where they are – is the best way to maximize engagement from these valuable donors.  
Want to learn more about these case studies or how to implement something similar for your organization? Don't hesitate to reach out to Faircom New York's Vice President of Integrated Marketing at barbra@faircomny to learn more and start upgrading your mid-level donors!