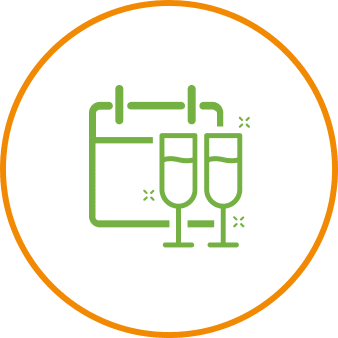 Our team has managed events of all shapes and sizes, from intimate VIP dinners to international galas.
Events are essential to fundraising strategy, but they must be thoughtfully integrated into your overall development plan. We review your goals and determine a tailored approach to creating an event that complements existing initiatives, including detail on target audiences, budgets/revenues, end goals, and next steps.
A major barrier to large events is cost, but developing strong sponsorship agreements can help. Our team identifies sponsor prospects, develops sponsorship decks, and creates personalized approaches to prospects that will help underwrite event costs.
Implementing your event means effectively communicating your theme and producing collateral – whether print, digital or media – that helps tell your story.
In the lead up to the big day, vendor relationships, audience outreach, RSVPs, and more need to be managed, followed by day-of logistics and follow up communications. It is a huge time investment for any team, but it can be particularly cumbersome for small staffs. Our team is here to help, stepping in as your one-stop shop event management and production firm.