If you've been following our blog or reading our case studies or attending our workshops, you've heard us preaching: segment out your mid-level donors and upgrade them!
Why?
Renewal rates are declining—but upgrades are increasing!
A direct mail donor is a direct mail donor. If they have the capacity to give like a large donor, they will do so through the mail. They don't want to deal with face to face.
If you don't ask, you don't get it.
A person who can give $500 or $1,000 through the mail usually has the capacity to give a lot more.
Maybe you've heard it all, but you want some proof. Well, here it is: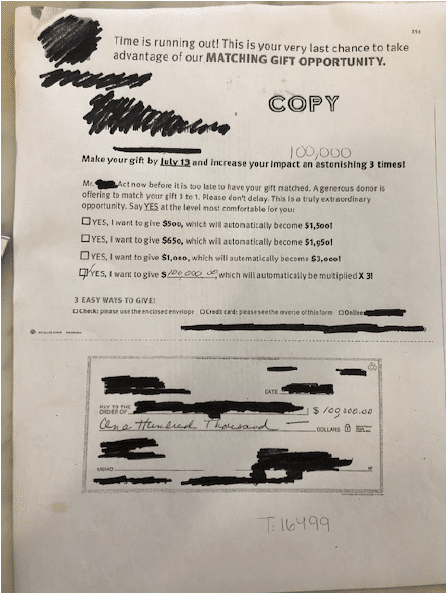 This is an actual memo BRC from a mid-level package that we dropped in May for one of our clients. We offered a triple match to renew lapsed mid-level donors. We started our ask at their highest previous gift level. This package was sent to donors whose highest contribution was between $500 and $9999.99.
To our great joy, but not necessarily our great surprise, one of the donors sent in this check for $100,000. He did not call beforehand. He did not email. We knew nothing about him other than his mailing address, his previous giving to our client (which had never exceeded $500) and how long he had been giving to our client.
Now, we're not saying this happens every day or every month. But when it does happen, it can seriously change your annual ROI and it will have dramatic implications on the long-term value of your donor portfolio. This donor will likely give again at this amount or more. And he will also likely leave a bequest to our client. Think of the ROI.
There are gems out there in the rough. The greatest indicator of giving is not capacity to give, it is interest in your mission. A response to direct mail, no matter how little, is a demonstration of interest. How you steward that interest is the key to earning the big reward.
If you want to learn how Faircom New York can implement a game-changing mid-level program for you, call Sally Frank, Senior VP of Strategy and Innovation, at 212-727-3876.