Monthly giving programs have become a lifeblood of nonprofits, creating a foundation for consistent, predictable revenue for your organization. But too many organizations are missing these low-hanging fruit: A recent study by Salesforce shows that only 14% of organizations prompted one-time donors to upgrade to recurring gifts when these donors would likely be interested in budgeting their gifts throughout the year. Additionally, 27% of organizations made no attempt to retain a recurring donation from a monthly donor after a credit card was canceled. [1] [2]  
So, why should you establish a monthly giving program? 
Popularity with donors: Last year, revenue from monthly gifts increased by 22%, more than twice as fast as revenue from one-time gifts (8%). Altogether, monthly giving accounted for 17% of all online revenue in 2019. [3] 
Donor retention: Monthly donors retain at a much higher rate than one-time givers., Monthly donors who give through a connected bank account have a retention rate of 90%! [4] 
Increases donor giving: Not only does the lifetime value of monthly donors increase over time, but they'll commit to more when they're able to budget their giving on a monthly basis.  
Stability: Fundraising can fluctuate from year to year — COVID-19 is a prime example. Monthly giving provides a more stable foundation of revenue to your organization. 
So, how can you maximize your monthly giving program?  
BRANDING

 
Name your group. Naming your monthly giving program is twofold. It should be directly tied to your mission and messaging, and it makes members feel like part of a special community making a difference in the world.  
Page Break 
Offer Benefits. Giving your monthly donors perks throughout the year helps them feel valued. This could be in the form of physical branded premiums, or virtual benefits like webinar or event invitations. 
Create a stream of unique communications just for them. Personalize your communications to monthly donors, and limit the number of times per year you ask them for additional gifts. Stick to peak times when you know your sustainers are feeling extra generous, such as Giving Tuesday or year-end. 
Thank them often. We recommend including sustainers in cultivations anywhere from 3-6 times per year, giving an opportunity to update them on what their gifts helped your organization accomplish.  
PROMOTION

  
Use a mix of direct mail and online channels to get the word out about your program. For direct mail, this could mean including a monthly giving insert in acknowledgments or new donor welcome kits, or adding language to reply slips and newsletters. 
The possibilities are endless to promote your monthly program through digital channels. With ample creative, messaging, and audience testing available, you can use digital to learn about your existing donors and prospects and optimize your campaigns to increase your monthly donors.  
A few ways to incorporate digital into your strategy include:  
Establishing a one-time donor welcome series that also highlights the benefits of converting to monthly gifts – this should be triggered within a day of the donor's gift, and can span between 2-3 emails over 2-3 weeks.  
Monthly donor email campaigns – depending on your donor file size, we may recommend quarterly monthly donor pushes.  
E-newsletters – including a small section on your email newsletters about the program, or highlighting a special dedicated monthly donor, can help continue to create awareness.  
Lightboxes on donation form or homepage – take advantage of your website traffic by promoting monthly giving on your home page.  
Social media advertising – target your current CRM lists & website visitors, and prospects to give.  
Texting to Give – this channel has grown increasingly popular with click-through-rates that often surpass email. Integrated SMS into your monthly donor pushes could help increase the response rate.  
CULTIVATE & UPGRADE  
Cultivating and upgrading your monthly donors are important steps for retention and growth of your program. Use an automated welcome series to thank new monthly donors, to share impact stories and statistics, and encourage social media engagement.  
Get Proactive. Over time, you will find that a portion of your monthly donors lapse out of the programd (on average 10%). Putting a strategy in place to reengage and renew these donors are key – this can include automatically triggered reminders before a donors' credit card expires, and appeals through direct mail and online channels, or even telemarketing, to renew donors.  
Develop Automated Upgrades. After a certain amount of time as a valued monthly donor, they're most likely willing to chip in a little more. Depending on your current donor base, they'll be likely to increase their monthly gift pledge between 6-12 months after joining. Organizations should develop an automatically-triggered email series for sustainers to receive this communication as their "anniversary" takes place. Outside of triggered appeals, you can pick significant moments to incorporate the upgrade ask to sustainers, like holidays or mission-specific asks or funds.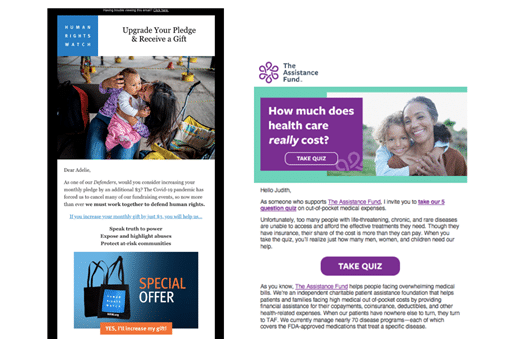 MAKE IT EASY  
An essential part of acquiring and maintaining monthly donors is making it easy for them to give and manage their gifts on an ongoing basis.   
Establish a contact person for your program. This makes it feel more personal and allows you to stay consistent with signers on your monthly giving communications. Donors will become used to hearing from this person and actually welcome communications, resulting in better open rates and response rates for your digital campaigns.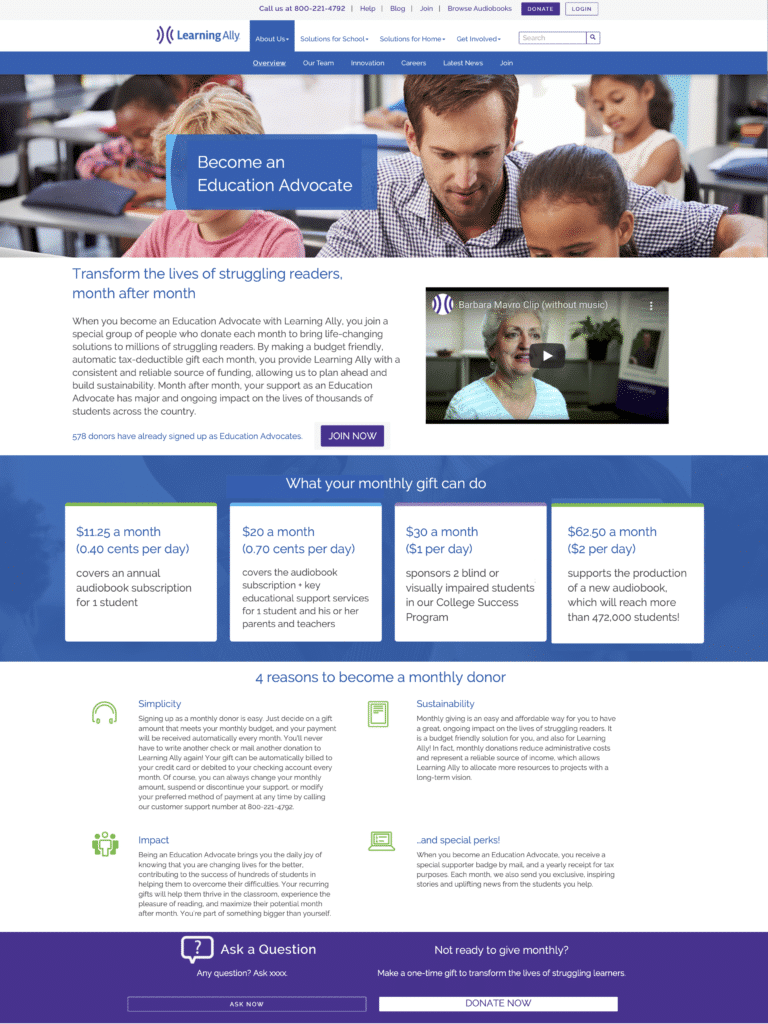 Optimize your website to make it easy for donors to navigate. The best thing you can do is allow donors to freely manage their contribution in a central location. Make sure all of your pages and forms on your website are mobile-friendly, since an average of half of all nonprofit website visitors are on a mobile device. [3] Create awareness for your program by having a branded, standalone page on your website that promotes your monthly giving program, and helps donors choose a monthly gift amount that's meaningful to them.  
Establish a specific monthly giving form. By developing a monthly giving form that is branded to your program you create continuity and awareness. Additionally, preselected customized monthly asks based on your donor history and data can increase your conversions by up to 35%.  
Whether your sustainer program is in its infancy, or ready for additional growth, it's always a good time to start planning and strategizing for your monthly giving program. Email the Digital Marketing team, at digital@faircomny.com, to get started.  
Sources: 
[1] https://www.classy.org/blog/giving-trends-2019-and-beyond/ 
[2] https://recurringgiving.com/ 
[3] https://www.mrbenchmarks.com/data/fundraising 
[4] https://www.causevox.com/blog/donor-retention-statistics/