So you've wrapped up the end-of-year fundraising season, said goodbye to 2020, and are back at your desk thinking about your organization's plans for 2021. Whether or not the past year was as successful as you hoped from a fundraising perspective, now is a great time to do a deep dive into a primary cornerstone of your digital fundraising strategy: your emails.
In our experience working with nonprofits, we've seen the same easily fixable email mistakes crop up over and over again. It's frustrating to see organizations with ambitious goals and worthy missions falter by not using best practices in their appeals, cultivations, and thank you emails. With that in mind, we're sharing 5 email appeal best practices that your nonprofit should commit, nay, ​resolve, to follow in 2021 and beyond.
Don't bury the lede. ​According to readability studies, when reading online ​users give 68% of their time/attention to the center and top half of what's on their screen, and a full 86% to the upper two-thirds. ​Make sure your email hooks the reader with a reminder of the urgency of your mission, and an immediate call to action. Most people won't read three paragraphs or more to determine what an email is about. You should also be using your subject line, preview text, and header image to hook the reader and introduce a compelling, emotionally appealing call to action.
Think mobile.​ Bring CTAs as far up within the copy as possible, and limit the amount of copy used, as ​text-heavy emails don't perform well on mobile​. It's a good idea to use buttons instead of, or in addition to, links. Buttons stand out and are easier to click on. Leaving some blank space around the button is also recommended.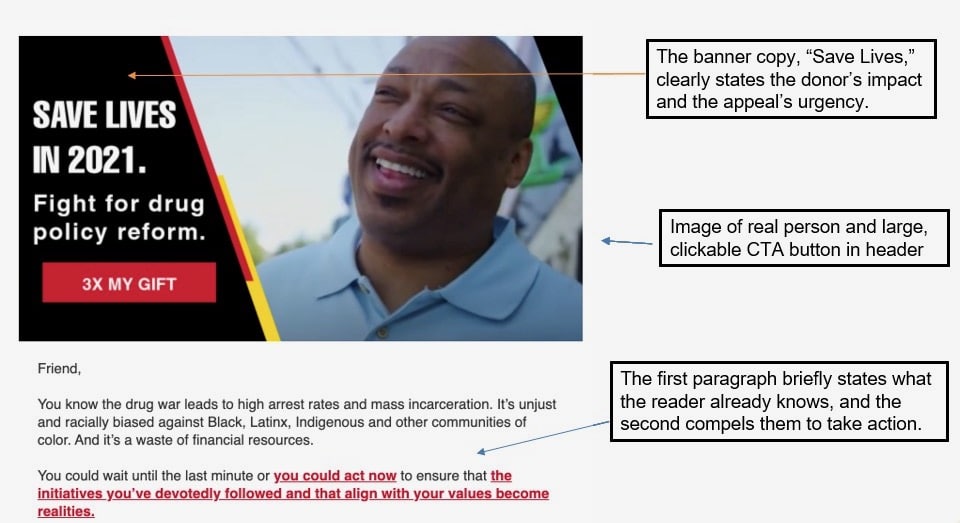 Have one main call to action.​ Make it easy for the reader to donate by directing them to a single landing page from your email. In one study, click-through rates increased 42% when the number of CTAs in an email decreased from four to just one. ​Multiple CTAs can confuse the reader​ and dilute the primary purpose of your appeal. If you must include secondary calls to action, it's best to place them at the end of the email.
Include compelling visuals. ​Images are equally (if not more) as important as your copy. Visuals provide an emotional anchor for the reader and draw their attention. Avoid stock photos, especially ones that look overly posed or fake. Real images of the people your organization has helped are ideal.
Simplify your language. ​Instead of using big words and long, complex sentences, make it easy on your reader who may be skimming quickly on a mobile device or between meetings. ​Aim for an eighth-grade reading level for most messages​. If you need to include detailed or technical information on (for example) tax deductions for donations, it's best to place it at the end of the email or include a link where the recipient can learn more.
The bottom line: ​these best practices are industry standard, and using them will only improve your open and response rates. ​Within these guidelines, there's still plenty of room for creativity, innovation, and compelling storytelling. ​Many nonprofit marketers are deeply attached to their mission and, by extension, their content. The beginning of a new calendar year is an excellent time to take a step back and really look at your emails from the previous year through the eyes of your donors and prospects. ​Think: if you received this email in your own inbox, would you read it all the way through? Would you click and donate? The answer should be a resounding ​yes!​
Looking for support with email fundraising? Please reach out to our Digital Marketing team, at digital@faircomny.com
Sources
[1]
[2]
[3]