Giving Tuesday 2020 is assured to be one of the most competitive fundraising days of the year for nonprofit organizations. This year's Giving Tuesday takes place on December 1st, less than a month after the Presidential election, in the midst of an ongoing pandemic, and in the wake of a year of high-profile social causes.
Donors' inboxes will be inundated with countless solicitations – so why should someone give to your organization, over all the others? Here are 5 ways to make sure you stand out on Giving Tuesday:
Create Urgency
Setting a fundraising goal for your organization can push the needle and increase your results. Use graphics like progress bars and fundraising thermometers to show donors how much is still needed before the midnight deadline. If you can tie your fundraising goal to a specific program area—such as "this amount will help us purchase ## water filters for people in need" – it can also help donors see the direct impact of their gift.
Matching gifts can make a world of difference in inspiring your donors to give. When a generous supporter of your organization offers to double, or even triple, gifts on Giving Tuesday, emphasize this in all of your messaging. Consider testing different match rates for various segments.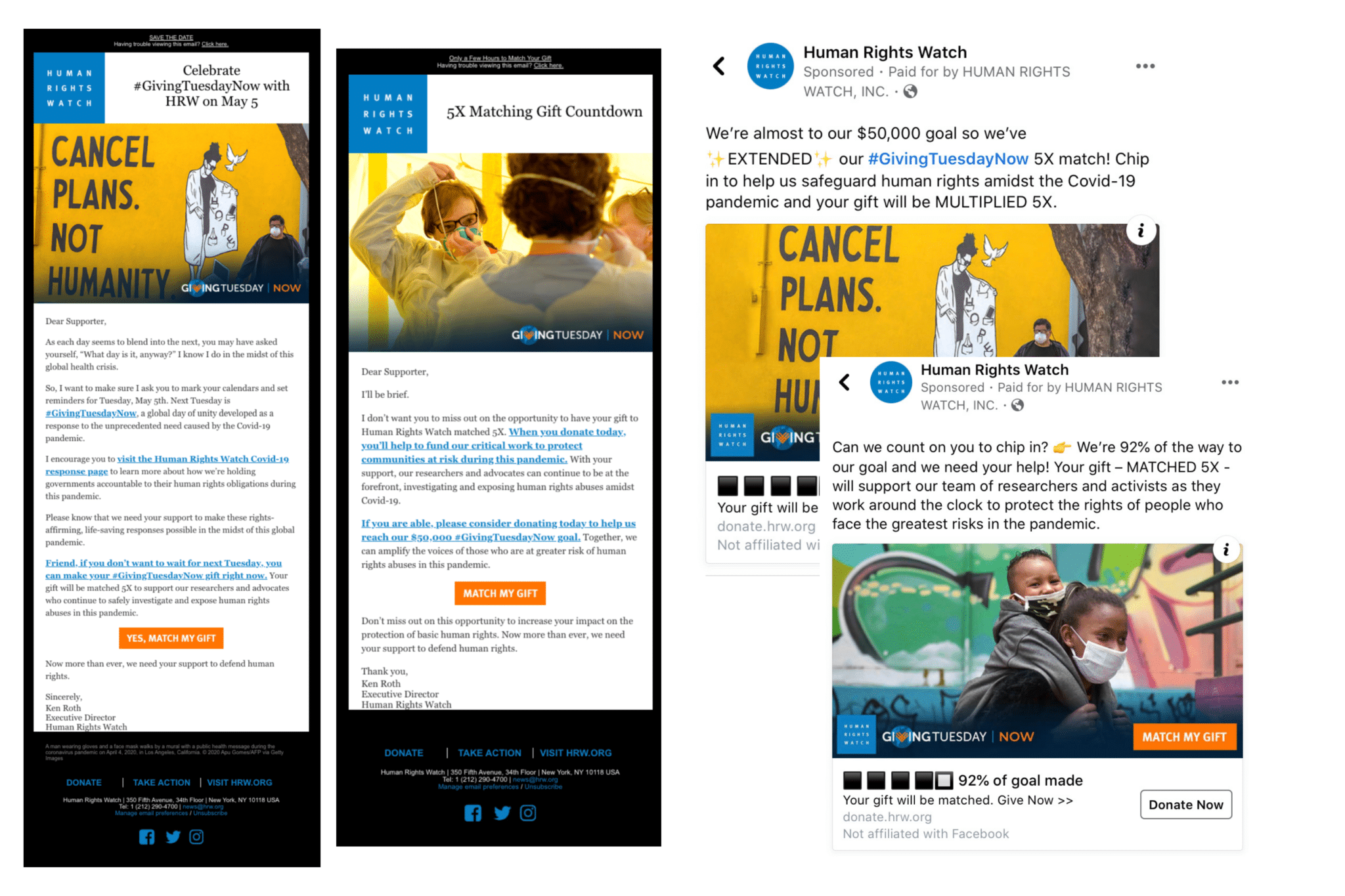 Offer an Extension
If you use the above tactics to create urgency for your Giving Tuesday campaign, you can launch a "surprise" extension of a gift match, or follow up on your fundraising goal, promoting last-minute gifts to those who may have missed your email the day of Giving Tuesday. An "it's not too late!" email is great for capturing those stragglers.
Use Email Wisely
Quality Over Quantity. It may seem like a good idea to send 20+ emails in December to your audience, but take a few things into consideration before making that decision. Take a look at the days, times, and types of subject lines and messaging that generated positive results throughout the year, and use this as your guide to build your schedule of Giving Tuesday email appeals. You should always leave room to warm up your audience before Giving Tuesday even arrives, with emails going out about a week before the event. Be mindful and tactical about your solicitation schedule to avoid donor fatigue or unsubscribes. 
Customize Messaging Based on Donor Relationship. A great way to connect with your donors for Giving Tuesday is to craft messaging based on their relationship with your organization. Your active donors and monthly donors may react differently to messaging about your organization than your prospects – and lapsed donors may need an extra push to reactivate. Depending on the donor level, and how much you are able to segment your email lists, you will want to craft your ask around average gift, or most recent gift (and maybe a little more if you're trying to push the needle!). Also, remember to take the time to thank your donors and prospects for supporting your mission. A thank you can go a long way!
Stay Relevant, But True to Your Mission. Issues that are in the headlines this year—racial justice, health care access, public health, and more—may be top of mind for your donors. If you can message off of these issues, that's great. But if these issues don't align with your core mission, take another approach. Perhaps look at your mission from another angle, and tie in relevant real-world news wherever possible. Doing so will help cement your relevancy in the donor's mind, and can help increase emotional connection.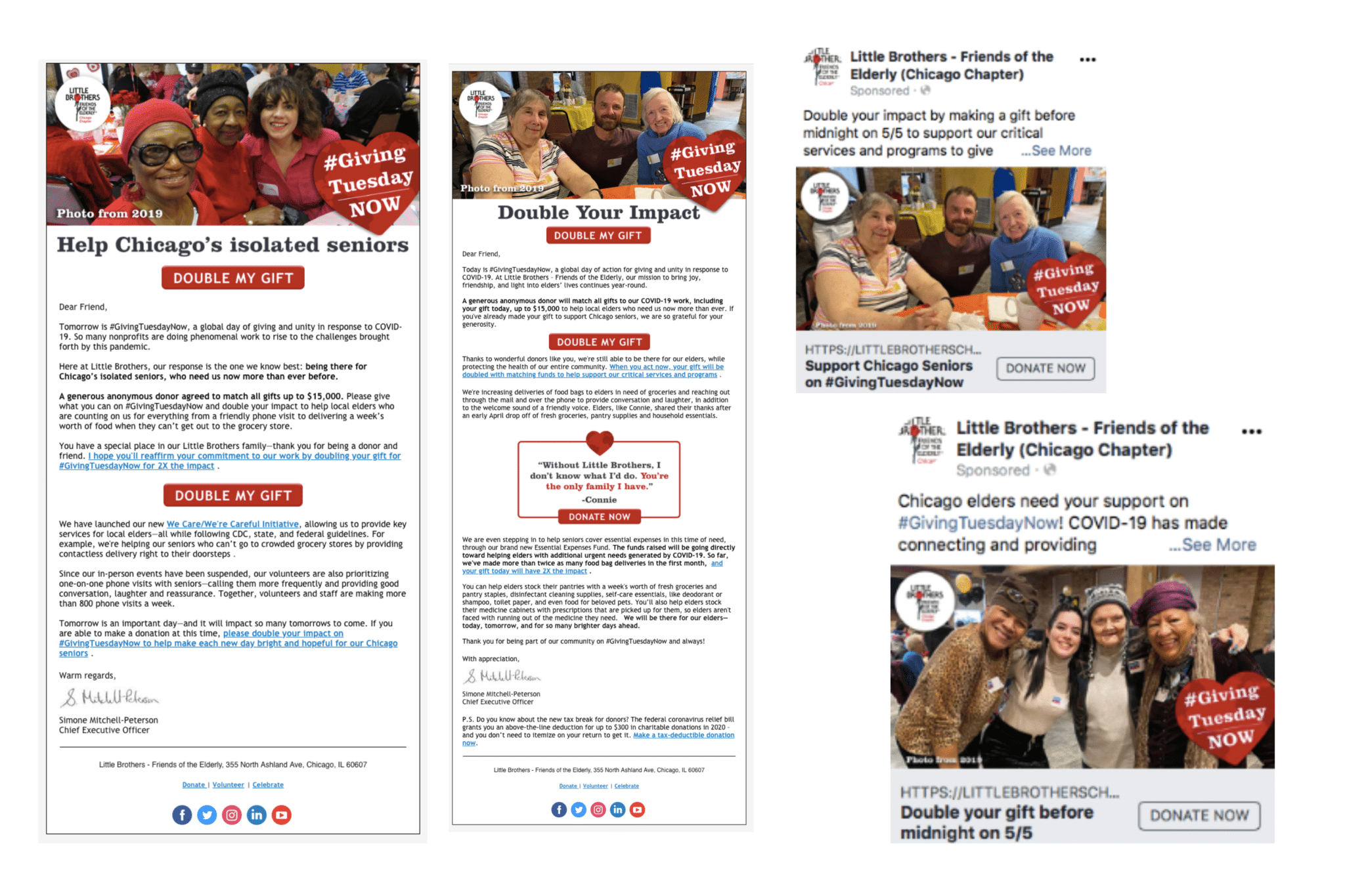 Don't Forget Facebook
Advertising on Facebook is a great opportunity for both small and large nonprofit organizations to encourage their current base to give and to prospect for new donors.
In 2019, Facebook giving accounted for 3.5% of all online revenue. This giving is heavily concentrated around Giving Tuesday. When we look at November and December together, these months accounted for 26% of all Facebook revenue, due in part to the importance of Giving Tuesday.
If you haven't advertised on Facebook in a while, start a pre-engagement campaign in early November to test audience selection, creative strategy, and messaging. Then, use these learnings in your Giving Tuesday campaign to reach your prospective donors with the sharpest message possible in the week leading up to Giving Tuesday.
Promote Other Ways to Give
Email revenue was down a little last year by 18%. So you may need to look at other areas of fundraising to improve your response to Giving Tuesday.  
Peer to Peer Fundraising. In 2019, the vast majority of all Facebook revenue was donated through the peer-to-peer Facebook Fundraisers tool. For donors that may not have financial stability this year due to the pandemic, but still want to support your organization, encourage them to create a Facebook fundraiser for your organization so that their friends and family will join them in championing your mission! Start by using a simple postscript in your Giving Tuesday appeals. You can take it a step further and dedicate a standalone email and advertising campaign to encourage peer to peer fundraising. 
Text to Give. Nonprofit text messaging audiences grew by 26% in 2019, at a time when Facebook audiences grew by just 4% and email list sizes declined by 2%. What's more convincing is the average click-through rates for fundraising text messages are 4.2%, much higher than the average email click-through rate of .56%. Text your donors throughout the campaign to follow up on your email appeals and encourage giving. 
Ready to kickstart your Giving Tuesday campaign? Contact digital@faircomny.com to get started.  
Sources:
https://www.mrbenchmarks.com/insight/prepare-for-launch
https://www.mrbenchmarks.com/data/fundraising
https://www.mrbenchmarks.com/insight/facebook-fundraising
https://www.mrbenchmarks.com/data/email-messaging