It's never too late to include Facebook in your fundraising strategy for high-traffic times like year-end! Using Facebook to raise funds seems intimidating at first, but once you know the best practices, it becomes more intuitive and crucial to your digital fundraising efforts. In 2019, Facebook donations made up roughly 3.5% of online revenue for nonprofits [1]. But that's not all! 
As a next step, defining a special program that has built-in benefits for mid-level donors can help to add greater structure to mid-level donor About 26% of Facebook revenue in November and December came from donations tied to their Peer to Peer fundraising tool, which includes Giving Tuesday [2]. In order to see success on this platform, you'll need to make sure your Facebook page is updated and registered as a nonprofit before the big giving season starts in the Fall [3].
Make sure your charity Facebook page is verified
If you aren't properly verified on Facebook, then internal issues will arise with running certain Facebook advertising campaigns and the ability to run Peer to Peer campaigns. Verification is there to help ensure that only legitimate organizations benefit from Facebook's nonprofit program. As seen in the example below of our client the Drug Policy Alliance, you will only receive a verified symbol of a blue check mark on your Facebook page once all steps are completed. 
Verification is a straightforward process. You will need to have your Tax ID number, details for your organization's bank account, and the date of birth and address of your charity's CEO or Executive Director.

Be clear about your Facebook fundraising strategy
The next step would be creating an overarching online fundraising strategy that includes Facebook. A digital marketer should be appointed to spotlight opportunities where Facebook should be utilized. A common rule of thumb would be focusing on integration with Facebook from November-December. However, there are other times of year outside of Giving Tuesday where Facebook can be leveraged for donations. Opportunities can be found in January around the new year to push audiences to make a resolution around online giving such as becoming a monthly donor (this can be done as a Facebook ad) or fundraising on their birthday through Facebook's Peer to Peer tool. 
Have your team set internal goals, and decide which metrics you'd like to focus on: Gaining monthly givers or one-time givers? Total engagement or total funds raised? Tracking metrics will allow you to better adjust and improve results year-over-year.
Utilize organic and paid Facebook posts 
Organic posts are important for relationship building on Facebook and it will help boost response rates during a fundraising campaign. You should post high quality and mission relevant content about 1-4 times a day on Facebook [2]. 
In addition, paid advertising on Facebook should be used strategically to promote evergreen content for a nonprofit. What's evergreen content? Brand-specific and general mission related ads that don't necessarily align with a specific fundraising campaign and can be used all year long. These methods not only help with relationship building, but help raise awareness for your cause and emphasize the urgency and need for donations.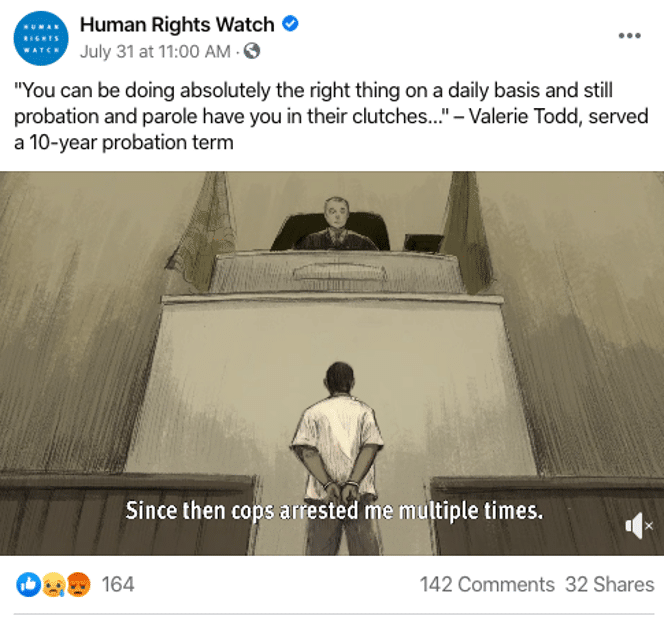 Paid advertising on Facebook falls into a few categories such as lead generation, conversations/web traffic, and boosted posts. The first, lead generation, is a common way to grow an audience especially if you want to gather more email addresses or generate more likes on your Facebook page. It's important to include incentives in order to get audiences to take action. Some examples include and are not limited to downloads of impact reports or other special mission focused reports, taking part in an interactive quiz and offering free monthly newsletters in exchange for an email. 
If the goal is to collect more donations, then you should consider running campaign specific advertising on Facebook. For example, if there's a digital campaign currently running or will run through the website, email, and Google paid search, then you'll need to make sure Facebook is included so audiences can be targeted on all channels for extended reach and to stay top of mind in order to raise more funds.
Integrate Facebook P2P Fundraising 
Lastly, Facebook's Peer to Peer fundraising tool is great for audience reach and gathering donations. Particularly during year-end, when people feel most generous, you can leverage this tool and encourage followers and donors to set up special holiday peer-to-peer fundraisers on Facebook.
However, be warned that there isn't a way to gather new donor data unless you retarget those audiences through a lead generation campaign. This is the only downside to this feature, but it's still a crucial avenue for nonprofits to include in their digital fundraising strategy. It works in two ways: you can create your own P2P fundraising campaign with a goal then boost it through paid methods to reach more people and stay top of mind while the second option is to encourage audience members to create their own fundraisers and goals to share with their friends and family. In addition, these two methods are not mutually exclusive so they can be used in conjunction with each other. 
You should take the time now to work on optimizing this channel for your digital fundraising efforts before the big fundraising season starts in the Fall. Need help with your Facebook fundraising strategy? Email Carla, our Senior Account Director of Digital Marketing, at carla@faircomny.com. 
---

Sources