We recently shared some good news on charitable giving during the current health crisis. If you missed it, it's not too late to check it out.
With Giving Tuesday Now around the corner and continuing considerations for budget revisions, it's important to stay updated on giving trends. To that end, we'd like to share some crucial industry reports and topline numbers to keep in mind, coming from reliable nonprofit reporting sources like M+R Benchmarks, Blackbaud, and Merkle.
As more reports are released, we'll continue to update this post so you can see how your program is stacking up against the industry.
Direct Mail: Lower overall mail volume is countered by higher average gifts — and higher overall revenues!
With COVID-19, the last 11 weeks of donation mail volume decreased by 15.5% compared to last year during the same period.
But, from the second to third week of April, donation mail volume increased by 53.1%.

This is good news, because previous findings indicated that donation mail volume declined by 16.1% during the same period last year.

Donation revenue was 5.8% higher compared to the same time last year.

In the third week of April, donation revenue was down 8.8% compared to the same week in 2019 due to the lower donation mail volume. 
Human Services and International Relief sectors were the only sectors with positive results for this time period.

The average gift during this time period was 25.2% higher than it was in the previous year. 

Last week, the average gift increased by 10.1% in comparison to last year, which helped soften the impact of the lower volume on donation revenue.
The average gift each week remained even or higher than during the same week in 2019.
Source: Merkle's Direct Mail 2020 Impact Report 
Online Giving: Positive revenue with an increase in P2P & Text-To-Give.
In 2019, online revenue increased by 10%. 

Hunger and Poverty nonprofits reported a significant increase of 20% while Rights nonprofits were the only sector to have a decrease (-4% from 2018). 

Monthly donor revenue increased by 22%, which is more than 2X  the revenue from one-time gifts (8% increase). 

Monthly giving made up 17% of all online revenue in 2019.

On average, online donors made 2.1 gifts and contributed $150 in 2019. 

Both are increases from 2018, when donors, on average, gave 2 times with a total gift of roughly $149.

Email messaging accounted for 16% of all online revenue in 2019, which is an 18% decrease from 2018.

Now more than ever, integration could be vital to the health of your programs with email revenue decreasing.

 39% of donors who made an online gift to an organization in 2018 made an online gift to that same organization in 2019. 

Online retention was 22% for donors who made their first gift in 2018 and 58% for repeat donors.

 Text messaging to nonprofit audiences increased by 26% in 2019 with a strong CTR of 4.2% for fundraising messages. 

During the same time, Facebook audiences increased by 4% and email list sizes decreased by 2%.

 3.5% of overall online revenue in 2019 came through Facebook, with most of the donations from peer-to-peer Facebook Fundraisers. 

Facebook Fundraisers revenue increased by 6% over the previous year.
Source: M+R Benchmarks 2019 Online Giving Report 
Organization Trends: Mid-size & small nonprofits are up!
Small nonprofits with less than $1 million in total fundraising revenue had a 2.2% increase in fundraising revenue.
Mid-sized organizations between $1 million and $10 million had an increase of 3.2% in total fundraising revenue.  
Large organizations with $10 million or more in total fundraising revenue were down 0.7%. 
Overall, the industry saw a 1% increase in total fundraising revenue year-over-year.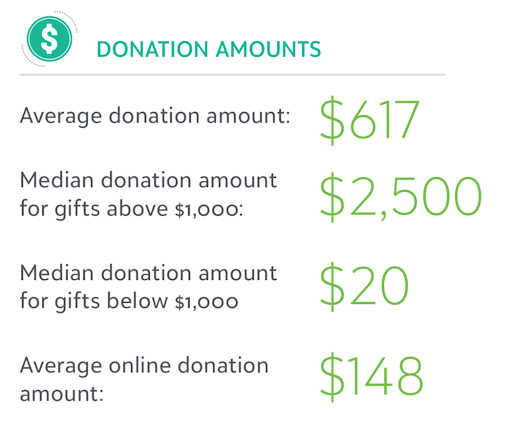 Source: Blackbaud 2019 Charitable Giving Report 
What does charitable giving look like in 2020?
Over the last 12 months (ending in March 2020), overall charitable giving has increased by 0.8%. But the impact of the current pandemic will show in the following quarters. The Blackbaud Institute recently shared a special COVDID-19 quarterly report broken out by sector, that will be regularly updated, to provide nonprofits with data and ideas to help them navigate the new landscape.
For more information, please check out and download the detailed reports below:
Please remember that we're here for you, and you can contact us anytime.